ASP-75. Compact Multipurpose Spectrometer
The smallest model of the ASP family has small footprint and weight while maintaining optimal spectral resolution for many research applications.
Optical specifications
Optical scheme

Czerny-Turner

Spectral range for choosing the registration domain*, nm

190-1100

190-1100

190-1100

190-1100

190-800

190-450

190-300

Grating, grooves/mm

400

600

800

1200

1800

1800




II-order

1800




III-order

Registered spectrum region width*(1), nm

950

600

385

245

150

69

40

Spectral resolution*, nm

1

0.65

0.5

0.3

0.18

0.085

0.05

Dispersion, nm/mm

28

18

13.5

8.5

5.2

2.4

1.4

Input slit

10 µm

Focal length

46 mm

Focal length of the camera objective

75 mm

Input type(2)

free-space and SMA905 fiber socket (FC socket and fiber patch-cord on request)

Synchronization

external/internal

PC connection

USB

Dimensions

126x68x53 mm

Weight

0.3 kg

CCD array specifications(3)
Model

Toshiba 1205DG

Toshiba 1304DG

Hamamatsu




S8378-1024Q

Number of pixels

2048

3648

1024

Pixel width

14 µm

8 µm

25 µm

Pixel height

200 µm

200 µm

500 µm

Minimum exposure time

4.2 ms

7.3 ms

2.1 ms

Maximum exposure time

4 s

5 s

5 s

Sensitivity(4), photons/count

80

20

650(3000)(5)
Antiblooming(6)

yes

no

yes

Meansquare noise of reading, counts of ADC

5.4

3.5

16(4.4)(5)
ADC

14 bit,




16384 counts

14 bit,




16384 counts

14 bit,




16384 counts

Dynamic range

1000:1

1000:1

1000:1 (4000:1)(5)
(1) - the necessary width and center of the registered range should be specified when placing an order. The ASP-150T has an operational range adjustment function;
(2) - each spectrometer is equipped with a fiber socket and allows measurement of either free-space or fiber signals without any realignment;
(3) - any array can be combined with any grating type;
(4) - sensitivity given at the wavelength of 550 nm;
(5) - the Hamamatsu arrays provide for sensitivity control via special driving signal, that can set either low (values in brackets) or high sensitivity mode;
(6) - the property of the CCD to prevent the charge flow from the neighboring overexposed pixels;


* - values given for the Toshiba 1304DG CCD array.
The miniature spectrometer ASP-75 has a small footprint and weighs 300 grams. The simplicity of the design allows to combine broad spectral range and high resolution with more than compact size. The device can be used in various space-demanding applications and also for OEM integration in any devices. The unit features a special fiber input with a spectral slit, the size of which is conditioned with the detector. It allows measurement of either free-space or fiber signals without any realignment. However, it is not recommended to use fiber to measure spectrum of a femtosecond laser due to signal modulation and subsequent spectrum distortion.
Related products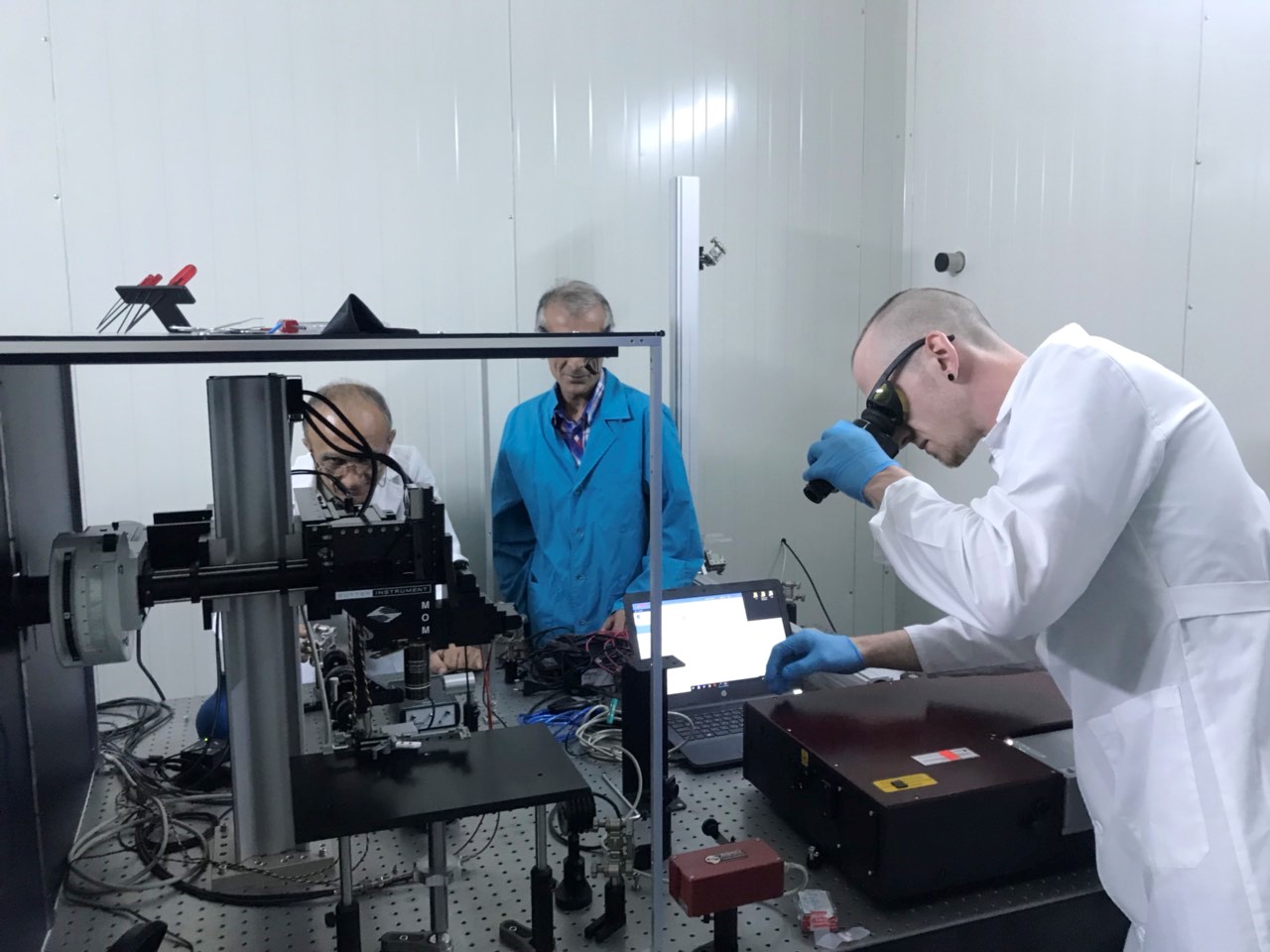 02.09.2019
The TiF-100ST-F6 femtosecond Ti:S oscillator with a built-in pump laser, also equipped with the ALock PLL electronics unit for pulse repetition rate locking to an external RF source has been installed at the Synchrotron Research Institute's CANDLE facility in Armenia. The setup has been developed and commercialized during the joint Russia-Armenia project supported by FASIE (Innovation […]
26.04.2019
Avesta will be participating in LASER World of Photonics 2019 trade show in Munich on June 24-27, our booth number is B3/338 (part of a joint Russian exposition space).